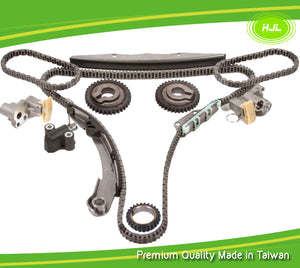 Fits 2005-2010 Nissan Pathfinder Xterra Frontier NV3500 4.0L VQ40DE Timing Chain Kit with Gears - #HJ-49178
How much does timing chain replacement cost?
The cost to replace the timing chain depends on the model of the car.
How do you know if your timing chain tensioner is bad?
Want to know when to replace the timing chain?
You can watch the post "how important is timing chain replacement" on the
HJLautoparts blog.
PARTS NUMBER: HJ-49178
Fit for following vehicles:
2006-2010 Nissan Frontier 4.0L DOHC V6 , Engine Code: VQ40DE
2005-2010 Nissan Pathfinder 4.0L DOHC V6 , Engine Code: VQ40DE
2005-2010 Nissan Xterra 4.0L DOHC V6 , Engine Code: VQ40DE
2012-2014 Nissan NV3500 4.0L DOHC V6 , Engine Code: VQ40DE
PACKAGE INCLUDE:
1 x CHIAN SCHx5x6 210L
2 x CHAIN SCH5x4 66L (2PCS)
2 x CAM GEAR (2PCS)
1 x CRANK GEAR
3 x TENSIONER
3 x GUIDE