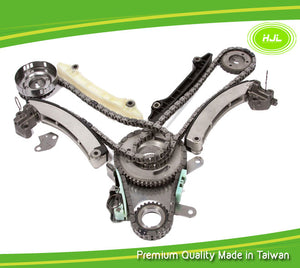 Timing Chain Kit Fits Dodge Ram 1500 / Jeep Liberty 3.7L 226CID 01-03 VIN K (JTEC Design) - #HJ-44020
How do I reprogram my jeep wj pcm?
What does the powertrain control module jeep grand Cherokee do?
Where can resolve a problems when pcm for jeep grand Cherokee badly?
Many 2000 models, including grand cherokee pcm and Jeep Wrangler reported problems with the electrical system.
How to test cherokee pcm and jeep pcm?
PARTS NUMBER: HJ-44020
Fit for following vehicles:
2002-03 DODGE RAM 1500 3.7L 226CID V6 SOHC
2002-03 JEEP LIBERTY 3.7L 226CID V6 SOHC

**VIN "K" JTEC Design PCMs(Powertrain Control Module)
PACKAGE INCLUDE:  
1. HJ-44020-CH-1 CHAIN C-393 70L
2. HJ-44020-CH-2 (2PCS) CHAIN C-194 (2PCS)
3. HJ-44020-824 GEAR CAM-LH S-824
4. HJ-44020-832 GEAR CAM-RH S-832
5. HJ-44020-861 GEAR CRANK S-861
6. HJ-44020-863 IDLER-SPROCKET PRIMARY S-863
7. HJ-44020-TEN/R TENSIONER-SECONDARY-RH 9431
8. HJ-44020-TEN/L TENSIONER-SECONDARY-LH 9432
9. HJ-44020-TEN/A (2PCS) TENSIONER-ARM 9433 (2PCS)
10. HJ-44020-TEN/P TENSIONER-PRI 9418
11. HJ-44020-G/R GUIDE -RIGHT 7434
12. HJ-44020-G/L GUIDE-LEFT 7435