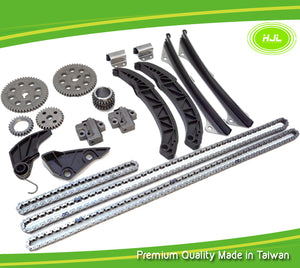 Timing Chain Kit Fit HYUNDAI Sonata Santa Fe Azera 3.3L 3.5L,KIA Sorento Amanti 3.8L 3.3L ENGINE:G6DA G6DB G6DC 2006-12 - #HJ-41020
Why some cars have a timing chain instead of timing belt?
How much does timing chain replacement cost?
For most cars,timing chain replacement costs between $413 and $1040
How do you know if your timing chain tensioner is bad?
How much does it cost to replace timing chain tensioner?
The timing chain when to replace on a car?
PARTS NUMBER: HJ-41020
Fit for following vehicles:
07 - 11  HYUNDAI AZERA/GRANDEUR 3.3L 3342CC V6 DOHC ,ENGINE:G6DB
07 - 09  HYUNDAI SANTA FE 3.3L 3342CC V6 DOHC ,ENGINE:G6DB
06 - 10  HYUNDAI SONATA 3.3L 3342CC V6 DOHC ,ENGINE:G6DB
08 - 09  KIA SORENTO 3.3L 3342CC V6 DOHC ,ENGINE:G6DB
10 - 12  HYUNDAI SANTA FE 3.5L 3470CC V6 DOHC ,ENGINE:G6DC
11 - 12  KIA SEDONA 3.5L 3470CC V6 DOHC ,ENGINE:G6CD / G6DC
11 - 12  KIA CARNIVAL/GRAND CARNIVAL 3.5L 3470CC V6 DOHC ,ENGINE:G6CD / G6DC
11 - 13  KIA SORENTO 3.5L 3470CC V6 DOHC ,ENGINE:G6CD / G6DC
06 - 11  HYUNDAI AZERA/ GRANDEUR 3.8L 3778CC V6 DOHC,ENGINE:G6DA
07 - 08  HYUNDAI ENTOURAGE 3.8L 3778CC V6 DOHC ,ENGINE:G6DA
09 - 12  HYUNDAI GENESIS 3.8L 3778CC V6 DOHC ,ENGINE:G6DA
07 - 12  HYUNDAI VERACRUZ 3.8L 3778CC V6 DOHC ,ENGINE:G6DA
07 - 09  KIA AMANTI 3.8L 3778CC V6 DOHC ,ENGINE:G6DA
09 - 09  KIA BORREGO 3.8L 3778CC V6 DOHC ,ENGINE:G6DA
06 - 10  KIA SEDONA 3.8L 3778CC V6 DOHC ,ENGINE:G6DA
06 - 10  KIA CARNIVAL/GRAND CARNIVAL 3.8L 3778CC V6 DOHC ,ENGINE:G6DA
07 - 09  KIA SORENTO 3.8L 3778CC V6 DOHC ,ENGINE:G6DA
PACKAGE INCLUDE:
CHAIN BWA4x5x178L (2PCS)
CHAIN-OIL PUMP BWA 4x5x72L
CAM GEAR (2PCS) 
CRANK GEAR
GEAR OIL PUMP UPPER
GEAR OIL PUMP DOWN
TENSIONER (2PCS) 
GUIDE LEFT (2PCS) 
GUIDE RIGHT (2PCS) 
GUIDE-UP (2PCS) 
GUIDE-OIL PUMP LEFT
GUIDE-OIL PUMP RIGHT