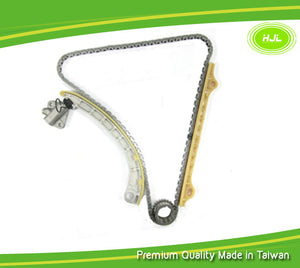 Replacement Timing Chain Kit Fits For SUZUKI JIMNY 1.3L Engine:M13A 2000-2005,SWIFT SX4 1.3/1.5L Engine:M13A M15A 2005 - #HJ-91104
How do you know if your timing chain tensioner is bad?
How much does timing chain replacement cost?
The cost to replace the timing chain depends on the model of the car.
Want to know when to replace the timing chain?
You can watch the post "how important is timing chain replacement" on the
HJLautoparts blog.
PARTS NUMBER: HJ-91104
Fit for following vehicles: 
SOLIO 1300CC 2002-
VVT-M13A DOHC JIMNY 2002-
M13A WAGONR SOLIO IGNIS DOHC 4CYL 1998-2008
JIMNY 1300 16V 60 KW M13A 2000-2005
WAGON R + 1300 VVT-I 16V 69 KW M13A 2003-
GRAND VITARA 1600 16V 78 KW M16A 2005-
SWIFT 1500 16V 75 KW M15A 2005-
SWIFT 1300 16V 4WD 66 KW M13A 2006-
LIANA 1300 16V 66 KW M13A 2001-
LIANA 1600 16V 76 KW M16A 2001-
SX4 1600 VVT 4WD 79 KW M16A 2006-
SX4 1500 73 KW M15A 2006-
PACKAGE INCLUDE:
HJ-91104-CH 12761-54G00 CHAIN SCH 4x5x162L
HJ-91104-GEAR 12631-69G00 CRANK GEAR 23T
HJ-91104-TEN-1 12831-69G00 TENSIONER
HJ-91104-G/L 12811-69G00 GUIDE
HJ-91104-G/R 12771-54G00 GUIDE